Fabrications:Change the fabric, change or add trim,lengthen, shorten, fold the edges but don't change any fitting seams.
Burda 3222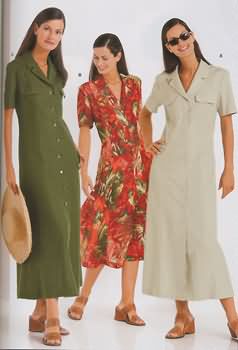 Look #1 Casual Elegance
Style changes: Omit the collar, cut off the lapel, omit the sleeves, raise the armholes 1 inch. insert ruffles in the front princess seams.
Look #2 Sassy Retro Effect
Style Changes: Cuff the sleeves. Belt and Blouse the waist. Add a colorful slip to accent the sheer fabric and cut it shorter than the bloused dress.
Look #3 Dramatic Flair
Style Changes: Cut the left front panel from a vibrant print. Add asymmetrical tab and button closures.
FYI: This pattern is out of print.
Part 1 Fabrications
Until next time, happy sewing…