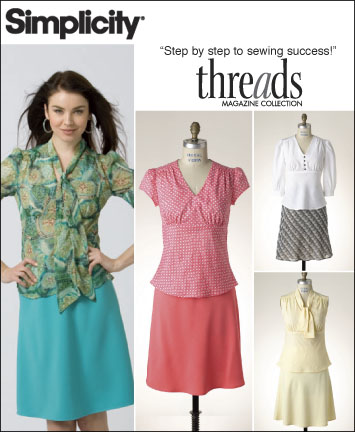 So I have tried Simplicity 2614 and to me it was okay but I don't think I'll be using it for the contest. The fit was good for a start but it was something about that bias lower front and back I just didn't like. I used a fabric that would be more like the fabrics I am using instead of the stiffer muslin that I have so I could gauge the hang better and it was that hang that I did not like. Also just like other tops I have tried I get that huge pool of fabric in the back. With tops that are cut on grain I now I have an idea of how to adjust the pattern for this problem but a bias cut back I'm not sure if the same adjustment works. So I am moving on to another pattern on list of possibilities, Kwik Sew 3199. It has very similar line (the empire waist) as the Simplicity pattern, so my rtw inspirations will still work with this pattern, in fact most would be better with his pattern. The main reason I went with Simplicity first instead of this pattern first was the closings. Closings take more time and also I would need to take a trip to the notions shop which is not always easy for me, as you can see with my
LBD
that is still waiting to get interfacing now for the past 5 weekends.
This is where Simplicity has been left, I never got around to adding the sleeves.
As of today I now have two days to fit Kwik Sew 3199, if I don't want to cut into contest time. This is not a lot of time for me since the kids are in the middle of end of term exams,this also explains the lack of blog this week. I'm hoping that I can start work on my first top January 1.
Until next time, happy sewing...