I have had to put my LBD on hold for now, I need some black interfacing for the midriff which I did not know until I started sewing. I had enough for the facings but not enough for the midriff. I was hoping to get it this past weekend and was hoping to update my blog with a finished dress but of course that did not happen. i'm hoping to get to the souk this weekend and get some.
What I have been while I'm waiting is making lots of muslin. Since i'm waiting to finish a project and don't want to start another just yet, I figured I do the dirty work of fitting some basic patterns for things I hope to become TnTs for wardrobe staples and somethings I just want to make for myself. Again I have been focusing on tops, I just love a good top worn over a plain skirt or pair of jeans, and its also the hardest part of my body to fit.
This is my muslin of the
peplum top that was a fail
the first time around, this one seems more promising. In total I think I have made about 3 tops in muslin, I was trying to find one that would be a good starting point for a good basic top. I THINK it finally came when I went to the market on Thursday and picked up the December issue of BurdaStyle style 119. There are some fit issues but nothing major. With a size 44 I have enough for my broad back and no need for a FBA but it is a little wide in the shoulders. So I'm going to try and go down a size there.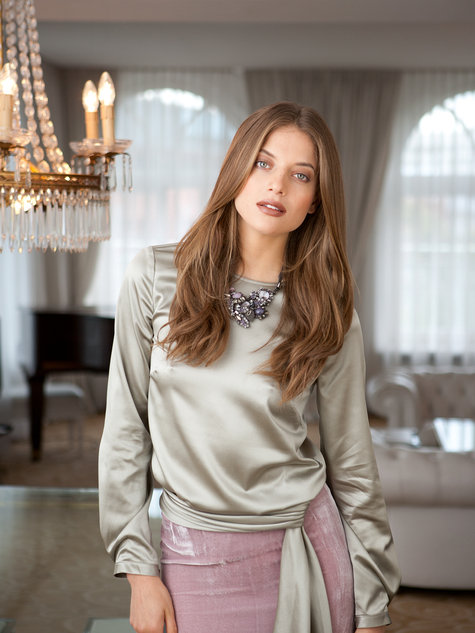 Next up is to redraft my skirt pattern. While I do like my draft from
Design It Yourself Clothes,
I liked my skirt sloper from
Building Patterns
a lot more. So I'm going to try and morph the two techniques to come up with a more perfect pattern. I still plan to finish the exercises from
Building Patterns
which one is a A-line skirt but I like how I get it with
DIY Clothes
more. So I hope my next update is the muslin of the BurdaStyle top and my new skirt pattern. So until next time, happy sewing