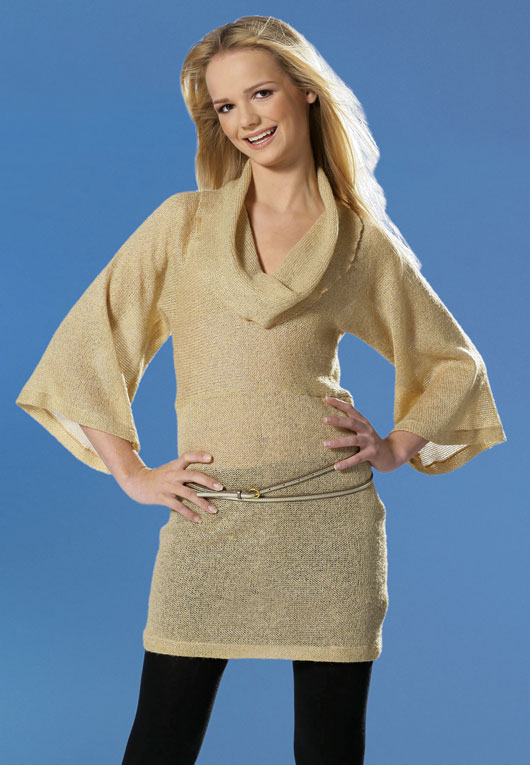 This was a last minute top for my mini wardrobe. I had originally planned a cardigan and was about 95% done with it when trying it on with the rest of the wardrobe items my oldest son replied I looked pregnant with it on, now after 8 pregnancies and 9 kids that was not a look I was going for so that was in trash quick fast and in a hurry. So now I was left with less than a week and one more item to complete in order to be eligible for the contest. For two days I went back and forth with what I had in my stash and what I had time for and time was quickly running out. and at first was only looking at toppers (vest, jackets, and cardigans), nothing I had in my fabric collection was working then I remembered I needed to have 6 looks not 8 and just one more top would give me that. So within hour I had a new plan and started right away I was done in only sessions.
PR review:
Pattern Description:
Burda Easy Misses top or tunic with v-neck or cowl.
Pattern Sizing:
32 to 44, I used size 40
Did it look like the photo/drawing on the pattern envelope once you were done sewing with it?
No I chopped off about 5 inches in length.
Were the instructions easy to follow?
Yes very easy, at first I thought I messed up on the cowl application, the seam is on the outside but I think its suppose to be hidden by the cowl so no raw edges show when it is hanging down, but I don't like it and will try something different IF I make this again
What did you particularly like or dislike about the pattern?
I don't know if I like this or dislike this but the sleeves and bodice are cut in piece so no shoulder or sleeve seam.
Fabric Used:
I used a mid weight cotton knit that I got here.
Pattern alterations or any design changes you made:
I just shortened by about 5 inches.
Would you sew it again? Would you recommend it to others?
Yeah but with a lighter weight fabric and also once I figure out another way to sew the cowl. i don't like how Burda has you do it, the seam is on the outside which I understand the seam is hidden by the cowl instead of on the inside where it can show from the cowl hanging down. I would recommend to someone who wants instant gratification.
Conclusion:
A nice last minute top for my wardrobe.
This like most patterns for knits tell you to use a double needle to sew hems but I have found a stitch on my sewing machine I like to use so far no one has asked me if I made my knit tops. For this top I made the stitch as wide as I could and used it as trim sort of as you can see to the left.
Until
next time, happy sewing...