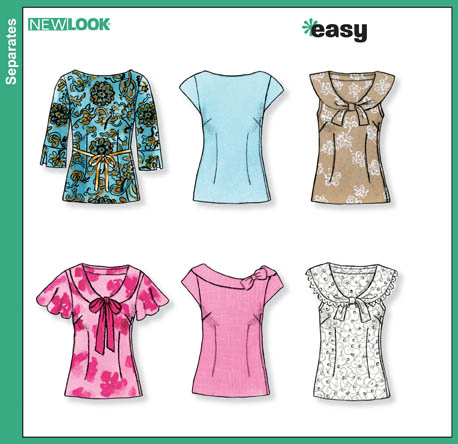 This is the second time I have made this top and so far it has been the most flattering top I have made for myself. I kept going back between this top and Simplicity 2599 and I think this one is more flattering but I still like the other but want to work with this one for a while. I made this first back in 2009 I think but I know I wore that top a lot more than I wear the ones made from Simplicity 2599. The fit is still not perfect but its a veery good start. The only problem I have with this top is the show through but that can be fixed with the right under garments.
PR review:
Pattern Description:
Misses easy to sew with with 6 different variations and side zipper.
Pattern Sizing:
8 to 18, for myself I sewed a size 12.
Did it look like the photo/drawing on the pattern envelope once you were done sewing with it?
Pretty much other than the sleeve change.
Were the instructions easy to follow?
I had no problems with the instructions when I used them, but the lapped zipper I did my own thing.
What did you particularly like or dislike about the pattern?
The facings were a bit short for me, which I see a lot of other reviewers have noted also. I made this pattern once before and the facings just kept flipping out.
Fabric Used:
For this top I used a Japanese cotton shirting I purchased from fabric dot com.
Pattern alterations or any design changes you made:
Well I altered this pattern about three years ago when I first made it and now I just used the worn out shirt as a muslin, the next time I may go up a size with a smaller FBA and see how that works. For this newer one I lengthened the sleeve and just left off the cuff but it is still 3/4 sleeve and added 1 inch to the neck facings
Would you sew it again? Would you recommend it to others?
Yes I plan to work with pattern a lot more, I love how it looks on me and the neckline is very flattering. The fit is not perfect yet but I'm closer than I have been with any other pattern and with time and patience I think it will be a very nice TnT top pattern for me. Yes I would recommend it to others.
Conclusion:
A nice and easy top pattern to sew and as you can see from the many reviews very flattering on a lot of different figures.
Until next time, happy sewing...