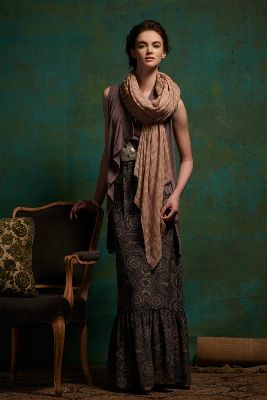 Here is my anthropologie inspired outfit
it only took me about 2 months to complete. Anyway the skirt is self drafted from my A-line from D-I-Y Clothes by Cal Patch. The top is Simplicity 2345 with sleeves added from another simplicity pattern this is actually my second time making up this pattern and the drape on this top is not like the first (first was a poly knit and this one is a cotton knit) but I'm still happy with it. I got the idea to do a cowl from my inspiration photo with the scarf around her neck. As a title suggest I'm not completely done, I just need to hem the bottom of the top and I'm done. All in all I am happy with how it looks and came out. I'm hoping to wear it next week to work with a nice cuff bracelet I have picked out.
I'm not sure what is next but I hope to get started this weekend.
Until next time happy sewing everyone......