Burda Magazine 4-2009-118
This is my second pant I have made from Burda Magazine (this first was a pair of maternity pants) and so far I'm pleased with the fit straight from the magazine. I do have a bit to tweaking to do but not that much, I hope. I'm going to take my time and not rush the fitting and adjustment process. I'm hoping in the end I can have a TNT pants pattern for wide leg pants. My first is a bootcut pants pattern from Burda envelope patterns that I have made about three times now, the most of any other pants pattern.
I plan on making a pair of black pants in a fluid fabric that I have had now for a few years. I'm not sure what it is, it is a toss up between the brushed twill that I got from farbic dot com or a polyester triactate I got from fabric mart, I don't have my other black fabrics with me so I can not compare to see which one I bought. Also I'm trying to figure out how to finish the inside, the fabric is very loose and when cut makes these tiny bits on my table that resemble tiny black bugs. I'm leaning towards a hong kong finish since the only lining I have found here is polyesters and I'm not trying to make them any hotter. We shall see.
Since I'm starting off with pants, maybe I should sew-along with
Sunni at CupCake Goddess
. She is currently having a
Trouser Sew-Along
for the month of Januray. But I'm hoping to get them done soon so I can start on my top and then get to my jacket. I have to keep reminding myself quality and not quanitity.
Until next post Happy Sewing.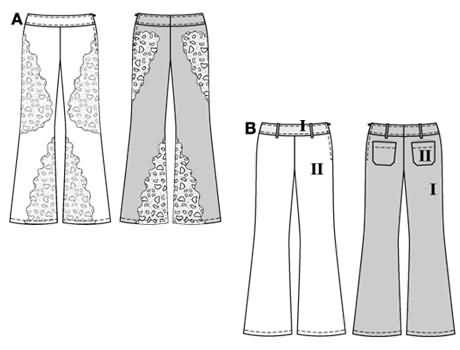 Burda 8513 bootcut