vogue 1166
Well I made plans to start a new blog for a new idea I had been planning for a while, but then I had some unexpected things happen that included moving and getting a new job. So now I had to rethink my plan, and that started with me deleting the blog and just keeping it simple with one blog.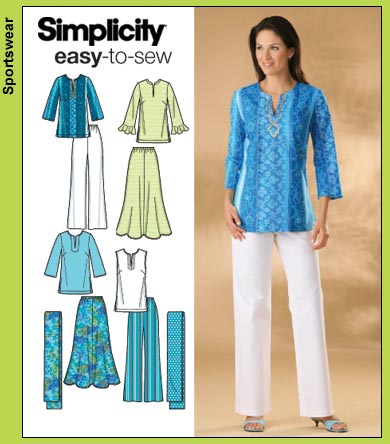 simplicity 4149
only had to do fitting once and then using basic patternmaking skills to make endless new combinations. The only problem I had was that I could not find a wardrobe pattern with a good starting point. One of the biggest problems was that most wardrobe patterns the top is sleeveless, another is that most of them come with only one bottom meaning it was hard finding one with both pants and a skirt. McCall's currently does not have a pattern like this, Butterick doesn't have one,Vogue comes close with some of its
Vogue Wardrobe
patterns such as
Vogue 1166
but the top is a knit with limits my options and the skirt is straight so trying to lengthen it with walking ease , I'm not sure how to do. Vogue has other patterns that have tops with sleeves but they are all knits. Simplicity comes the closes with
4149
but then after all the looking I just decided go find the items in my own pattern collection. That idea only lasted for so long as I wanted to also get more into patternmaking so I thought about just using Cal Patch's book
Design-It-Yourself Clothes
its my favorite book right now and I want to complete all the projects in it. So I decided to mix both ideas.
I'm going to use a basic patterns that are already in my collection and slowly replace them with self drafted ones once I have perfected the fit or maybe just self drafted depending on how much drafting and fitting I can get done between now and November 1. This includes a skirt, woven top, knit top, basic pant, and a dress. I will change them using the directions from Cal's book and my many other pattern making books.
So it will be 52 weeks + 5 patterns + 27 books = 1 warbrobe